Ship Repair Facilities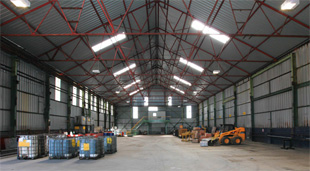 Swansea Drydocks is situated in the Port of Swansea and easily accessible by the major shipping routes including the Atlantic, English Channel, Irish Sea and Bristol Channel.
Located in the Kings Dock which forms part of Swansea Bay, the site comprises two main operational areas connected by a road. The main area provides the Prince of Wales dry docks, waste processing and storage facilities as well as buildings, infrastructure and parking.
The facility's two dry docks are large enough to accept most ships:
Prince of Wales Dry Dock 1
Length: 204.5m
Breadth: 30.4m
Breadth (seal): 28.0m
Prince of Wales Dry Dock 2
Length: 170.7m
Breadth: 23.7m
Breadth (seal): 22.8m
The normal water level in the King's and Queen's Docks is 10.5m, therefore capable of accommodating very large draft ships.
Swansea Drydocks' dry docks and afloat repair berth facilities are equipped with dedicated cranage and shore service outlets to provide electrical power, fresh water, ballast water, compressed air and other supplies. Workshops within reach of the cranes are well equipped to provide an efficient work handling facility.